Cat cafés have taken the world by storm, offering a unique blend of coffee, relaxation, and furry feline companionship. Europe has not been immune to this trend, with a growing number of cat cafés gracing its cities. So far, I have visited over 25 cat cafés all over Europe. In this article, I will explore the six best cat cafés across the continent, each offering a delightful experience for cat lovers and café enthusiasts alike.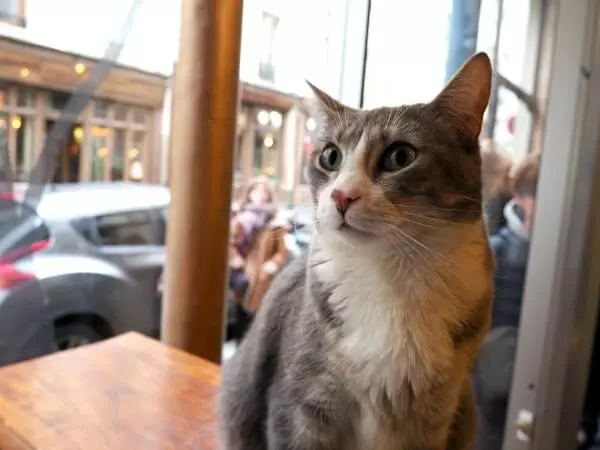 1 Le Café des Chats – Paris, France
Le Café des Chats in Paris is a cat lover's paradise. The café boasts an enchanting interior, replete with cozy nooks, whimsical decor, lots of books, and, of course, a troop of charming cats. Each feline resident at Le Café des Chats has a unique personality, and guests can enjoy their company while sipping on a steaming cup of coffee or indulging in delectable pastries. The café also hosts occasional cat-themed events and is a must-visit for those seeking a slice of Parisian charm.
2 Kociarnia Café – Krakow, Poland
Located in Krakow, Poland, Kociarnia Café is known for its warm and welcoming atmosphere. Drawing inspiration from the local culture, the café offers a charming setting for guests to relax and enjoy their coffee alongside a few furry friends. The café's resident cats are rescue cats, and each one has a heartwarming tale. You can also find cat-themed merchandise here and enjoy cat-centric events and workshops.
3 La Gatoteca – Madrid, Spain
Adding to the European cat café scene, La Gatoteca in Madrid, Spain, is a hidden gem for cat enthusiasts. The café offers a cozy space where you can enjoy coffee while spending time with their resident cats. La Gatoteca has a strong commitment to cat welfare and adoption. Visitors can relax, unwind, and maybe even find a furry friend to take home.
4 Café Neko – Vienna, Austria
In Vienna, Austria, Café Neko stands out with its Japanese-inspired setting. This café takes its cues from the cat cafés of Japan, creating a serene and zen-like environment. The resident cats are known for their interactions with visitors, making the experience all the more delightful. Café Neko also supports local animal welfare organizations, adding a charitable dimension to your visit.
5 Cat Café Budapest – Budapest, Hungary
Cat Café Budapest has carved a niche for itself in the local cat rescue community. It offers a cozy interior where you can enjoy delicious coffee and treats. The café prides itself on hosting a variety of cats, each with its own unique traits and quirks. What sets this café apart is its commitment to promoting cat adoption. Cat Café Budapest frequently engages in charitable activities, and every visit contributes to their mission.
6 Café Katzentempel – Munich, Germany
Munich, Germany, is home to Café Katzentempel, an eco-friendly cat café with a strong focus on animal welfare. The café's interior is cat-themed, reflecting their commitment to all things feline. The resident cats are well cared for and a delight to interact with. Café Katzentempel also stands out for its vegan menu, which aligns with the café's ethos of promoting animal ethics. Keep an eye out for their cat-related events and workshops, making your visit an educational and heartwarming experience.
Conclusion
Cat cafés in Europe offer an enchanting blend of relaxation, coffee, and the delightful company of cats. Each café on our list has its own unique charm, atmosphere, and resident cats, making them all worth a visit. Whether you're a devoted cat lover or simply in need of a cozy spot to unwind, these cat cafés in Europe provide a purrfect haven for all. Enjoy your coffee, savor the ambiance, and let the cats make your day brighter in these wonderful European cat cafés.